Can Outsourcing Improve Your Bottomline?
Outsourcing can and does improve your bottomline. Here's how -- Want to make your clients happier with better service? In a mood to manage the database in the best possible way with minimum efforts? Unsatisfied with your accounts department? Are the internal resources too costly as compared to their benefits? Looking for a common solution to all the administrative problems?
Don't worry. Millions around the globe are looking for ONE answer to all these questions. And the answer is OUTSOURCING.
Many companies, like IBM, outsource much of their production to Taiwanese firms. Telecom service providers outsource their 'Customer Care' service. Banks outsource marketing duties.
So why can't you?
Outsourcing to India creates strategic value by creatively examining the process and changing the way it is performed. The service provider undertakes the responsibility to take over the function and re-engineers the way of doing it. This can be either in the form of applying a new technology or applying the existing technology in a new way.
Companies are taking advantage of outsourcing services to serve their clients quicker and better. According to the Outsourcing Index 2002 by Outsourcing Institute, USA, some of the reasons behind outsourcing are as follows: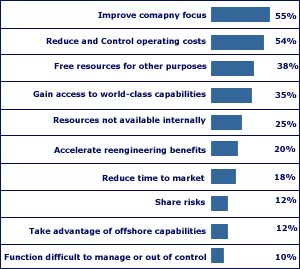 Next question that may come in your mind is "What are the things that can be outsourced?"
There are many processes that one can outsource. This ranges from hiring companies to make widgets faster to processing insurance or medical claims faster and efficiently to running a company's accounts payable and pensions.
According to a published report, the outsourcing market is estimated at $180 billion, and is expected to grow by 10% to 12% over the next five years.
According to the Fifth Annual Outsourcing Index the top ten non-revenue generating tasks that are being outsourced are as follows:
Information Technology
Administration
Distribution and logistics
Finance
Human Resource
Manufacturing
Contact Centers/Call Centers
Sales/Marketing
Real Estate Estate/Facilities Management
Transportation

See also "Seven Steps to Successful Outsourcing by Keith Pallesen", "Factors for Successful Outsourcing" and "Important Factors in Vendor Selection" before proceding further.
WEB DESIGN OUTSOURCING
Web Design Outsourcing is very popular because companies in India can offer very high quality design and programming services at a fraction of the cost. The days of cost-based outsourcing are behind us - now companies are looking to assign jobs to designers and developers who can do top-notch work.
Having served clients in USA, UK and several other countries, this web design company boasts of taking care of all your design, development and maintenance jobs for your regular desktop and mobile websites - at costs that will be a pleasant surprise to you.
Read More
WEB MAINTENANCE OUTSOURCING
The web maintenance outsourcing services leverage the power of a team of experts in web designing, web based software development, website security and other related fields to keep your website running at top notch performance level and constantly improve the lead generation potential.
Read More
HUMAN RESOURCE OUTSOURCING
Human Resource Management is the effective use of businesses most valuable resource, its employees. Their valuable knowledge and function form the core basis of a businesses operations. Having the right staff allocated for a selected position is the human resource managers job. Choosing effectively the most appropriate personnel for a specific industry is instrumental in forming a specific culture and qualified staff for a company.
HR BPOs represent the next generation in employer services as they deliver payroll solutions integrated with human resource Information system (HRIS) technology. Through a single source, clients of HR BPOs upgrade to their HR process and save a significant amount of time and money.
Read More
ACCOUNTING OUTSOURCING
If you want to achieve strategic value and enhance your control over your businesses finances, try accounting outsourcing. Some of the accounting outsourcing services includes internal audits, financial statement preparation, general ledger maintenance, monthly & year-end closing assistance and many more.
Read More
INFORMATION TECHNOLOGY OUTSOURCING
Information Technology Enabled Services (ITES) involves delivering services over telecom networks or the internet to a wide range of business services. Being human intensive in nature, these services are outsourced to enjoy cost advantage without compromising on quality and efficiency.
Read More